---
I Actually DO What I Teach
Everything I create to help you grow your online presence has been tried, tested, and perfected in my own business (and those of my clients and colleagues) before even making it's way to you...
So you can feel confident that this stuff actually works and is not theory.
I also want you to know what's possible when you build an online platform that is based on providing immense value to your marketplace through strategic and profitable FREE content...
Blog posts, videos, social media engagement, and/or podcasts that not only help your audience solve their biggest problems but also add income and profits to your business.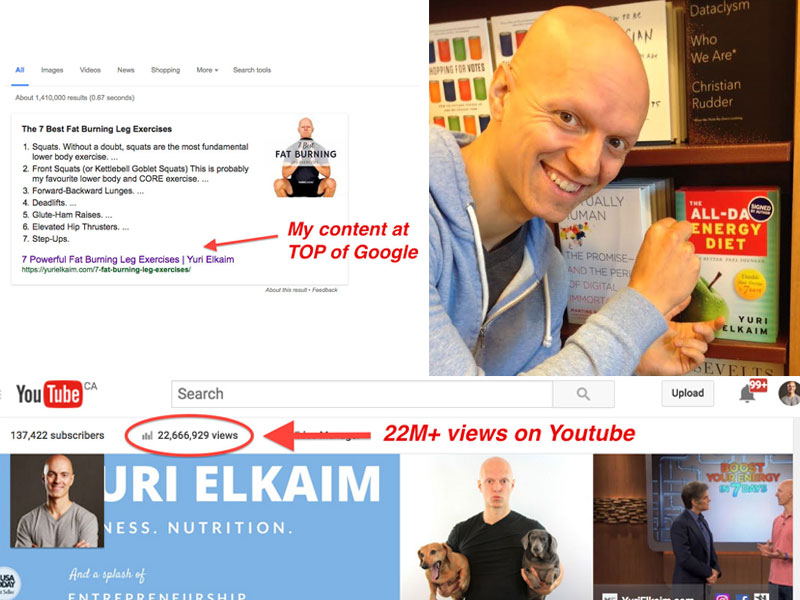 Sadly, I've noticed that most online health and fitness experts put out content without much strategy behind it...
They pour their hearts and souls into creating great content but then have little to show for their efforts in terms of leads, customers, and revenue.
That's not what I want for you.
And in my 2-day Content Mastery Workshop, I'll walk you through my proprietary "Teach to Sell™ Method " to help you create amazing content that actually drives your business forward...
Even if:
You're just starting out and have no idea what to write/talk about...
You've been online for a while and have already developed a good amount of content but want better results from your efforts...
You don't like writing or being on video...
You feel overwhelmed and don't think you have time to create consistent content...
Yes, I can help you take your online business to the next level by helping you share your expertise in a way that helps you stand out in this crowded marketplace but only...
If you qualify (more on that in a second)...
---
Why Content (Done Right) MUST Be a Focus in Your Online Business
If you're anything like me, you don't like slimy sales tactics...
As a health or fitness professional, you actually care about helping those you serve. That's why TEACHING and EDUCATING is so natural for most us.
But teaching alone won't grow your business.
It needs to be done in the RIGHT WAY so that your prospects begin to know, like, and trust you to the point where they actually want to do business with you.
And that's the foundation of The Teach to Sell™ Method I teach in my Content Mastery Workshop.
I believe that YOU have an unparalleled gift to transform the world, one person at a time, with the ideas, expertise, and wisdom you've accumulated over the years.
Equipped with this power, you don't have to be a slave to the gym, the 4-wall clinic, or struggle to grow to your online presence.
You can have more freedom, make more money, and live life on your terms, all while impacting far more people than ever before with your unique content...assuming it's set up the right way.
And I'm not the only one who believes that content - done right - is the most surefire way to grow your online business.
Here Are 6 Eye-Opening Statistics You Should Be Aware of:
44% of online shoppers begin by using a search engine. (Interconnected World: Shopping and Personal Finance, 2012)
YouTube has become the 2nd Largest Search Engine - bigger than Bing, Yahoo, Ask & AOL combined. (Social Media Today)
Leads from Google search have a 14.6% close rate, while outbound leads (such as direct mail or print advertising) have a 1.7% close rate. (Search Engine Journal)
54% more leads are generated by inbound content than traditional paid marketing (Hubspot).
2x as many marketers say content marketing delivers below average cost per lead than outbound methods (Hubspot).
Content marketing generates 3 times as many leads as traditional outbound marketing, but costs 62% less. (Demand Metric)
What this means to you is this:
When people are actively searching for an answer to their problem and your content provides that answer, you don't have to "sell" as hard to convert them. In fact, they're more likely to buy what you're offering because you've added value to them first.
So, if strategic content is NOT a major focus for how you're building your online presence, then you will quickly (or slowly) fade away.
Neither one of us wants that to happen...and that's why I'm committed to helping you succeed, if you're a good fit for us to work together.