My name is Yuri Elkaim...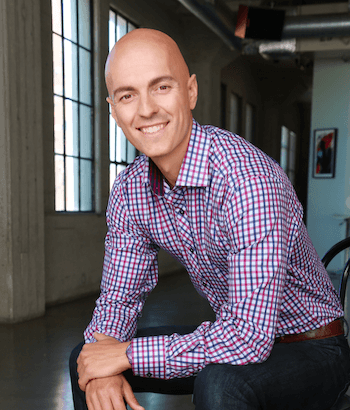 I'm a sought-after business coach, keynote speaker, and the founder of Healthpreneur® where I help health and fitness entrepreneurs, coaches, and practitioners turn their expertise into high 6- and 7-figure online businesses with less stress.
But I need to be honest with you...
When I first started my online health business back in 2006, I was a mess. I was overwhelmed, scattered, and barely saw any results (ie. little to no revenue) for more than 3 years!
I thought I could figure this "online" thing out all by myself but boy was I ever WRONG!
Eventually, I realized that what I was doing simply wasn't working and I needed to get proper coaching and guidance. When I did, everything changed.
Over the past 12 years, I turned that failing online health and fitness business into one that has generated multiple 7-figures every year, while helping 500,000 people to better health and publishing 3 best-selling nutrition books, including a #2 New York Times bestseller.
But, a few years ago, I realized that the "old model" of growing your platform, building your influence and celebrity, writing the bestselling books, and selling low-priced products is DYING.
Don't get me wrong - it's great to have "celebrity status"...but for most people, that's a 5-10 year game plan - minimum - without much to show for it in the process.
And it's harder than ever to do so in this rapidly evolving online landscape...if you actually care about making money in the process.
Thankfully, I discovered a simpler business model that we started using in our own health and fitness business and used it to build Healthpreneur® from $0 to close to $1M in just over ONE year...
The best part is that you too can deploy this - no matter if you're starting from scratch or looking to grow your existing business - in a few short weeks!
...And without having to post 1,000 times a day to Instagram...without needing a popular blog or Youtube channel...and even if no one knows who you are.
When you attend the Health Business Accelerator™ workshop you'll get the exact step-by-step blueprint for building an online business that you love, while enjoying way more income, impact, and freedom than most of the so-called "celebrities" who look successful on the surface.
You'll become even more successful, rather than just look it.
---
Is This Workshop Right For You?
If you meet any of the following criteria, then this workshop can help you in a big way:
You are a health and fitness leader, expert, coach, or entrepreneur with expertise that can transform someone's life.
You offer a service (ie. coaching) or high end product (ie. supplement, course) OR you're super clear on one you wish to bring to market.
You are a coach (in the health/fitness space) who wants to move away from 1-on-1 coaching to a more leveraged model that better serves your clients, makes you a lot more money, and frees up your time.
You're tired of selling low-priced information products and being an "info marketer" and want to shift to a premium-priced model that better serves you and your clients.
You are a committed, long-term thinker who takes 100% responsibility for your results.
You are willing and able to do the work and have a never give up attitude.
You want to build a great brand (or grow your existing one).
---
But, This is NOT For You If...
You're not in the health or fitness space.
You're looking for a "get rich quick" or "biz opp" that delivers overnight success.
You're not willing to do the work.
You're only interested in selling low end info products (ie. ebooks).